Reserve Bank Slashes Lowest Cash Rate in Australian History.
Fri, 16 Aug 2019
The Reserve Bank of Australia (RBA) has cut the official cash rate again as economic indicators like the unemployment level and wage growth still look weak.

The 25 basis point cut, takes the interest rate from 1.25% to a new historic low of 1%, marking the first time since 2012 that the Reserve Bank of Australia has cut in two continuous months.

The majority economic view is that it will be followed by another cut later in the year to 0.75%, potentially creating a modest boost in house prices as major markets appear to be bottoming.
After almost three years, the Reserve Bank of Australia (RBA) is truly on the move.
Cutting the official cash rate to a new low last month, the RBA has once again cut rates in July to an even 1%. That was in line with the majority consensus from Australian economists, including all four of the major banks.

That path is not one we want to stay on. Unemployment remains stuck at 5.2% while GDP and wage growth remains sluggish. That's placed extra pressure on households and decreased spending, slowing growth further.

It means that earnings growth and unemployment are the two key drivers the Reserve Bank of Australia needs to get going, according to BIS Oxford Economics Chief Australia Economist Sarah Hunter.

"As Governor Lowe has flagged there have been structural shifts in the labour market, as we're now in a situation where the unemployment rate needs to be more like 4.5% before wages growth will take off".

It comes as property market declines in some Australian capital cities appear to be slowing.

Domain economist Trent Wiltshire is of the majority view that the RBA will cut again later in the year to bring the interest rate to 0.75%, which will help ease property woes.

"Interest rates cuts will be the key driver of prices bottoming out sooner rather than later," he told Business Insider Australia.

At the same time, the latest CoreLogic data reports that we're seeing the strongest auction clearance rates in more than a year in Melbourne and Sydney, albeit on low volumes.
That's leading Domain to forecast modest house price growth over the next 18 months.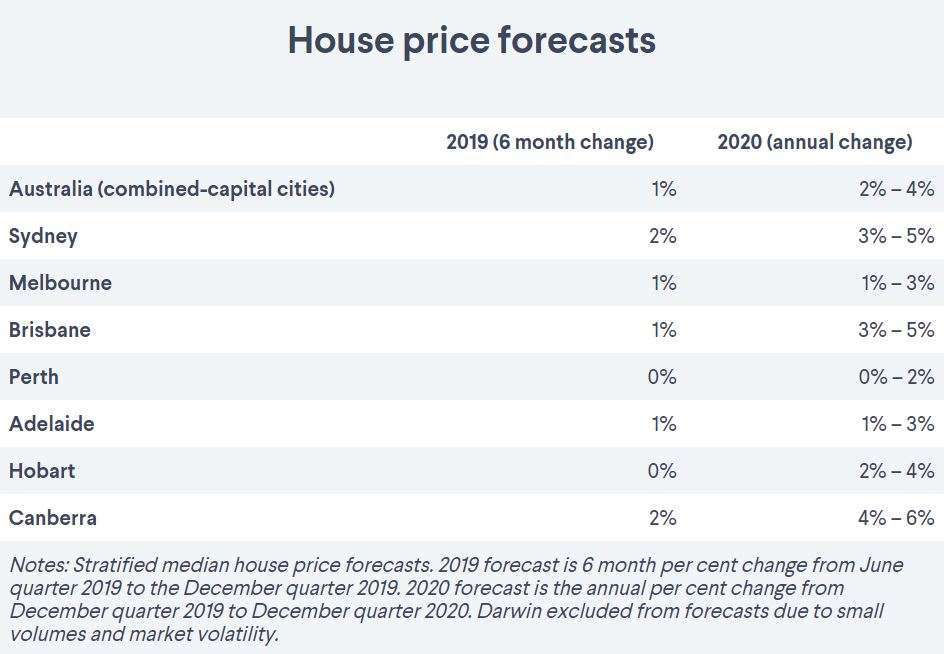 "We think the impact of lower interest rates will be more muted than in the past because households are heavily indebted and people are wary about taking on any more debt. Bank lending conditions remain pretty restricted and because the economy is soft, wages growth is going to remain soft which will put a ceiling on price growth," Wiltshire explained.

But will it be enough to get the Australian economy into gear?
Hunter doesn't think so.

"Interest rate cuts will help at the margin, but it's certainly true that fiscal support -- either through tax cuts or spending increases -- would be beneficial," she said.
"Assuming it's passed the immediate income tax cut announced in the budget for low and middle-income earners is a start, but the government could do more to support growth."

Meanwhile, the Australian dollar continues to fall as the local economy weakens.